Now I know that the first thing that is probably going through your mind is that these photos are from West Virginia. Who knows, they just might be!
The first one definitely looks like it has been a victim of photoshopping, but the second one looks real. Real or not, they strike me as funny so I figured that I would pass them along.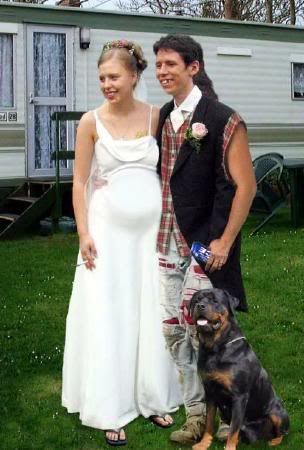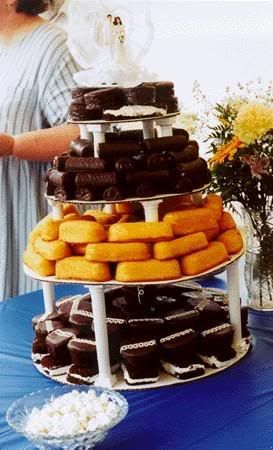 WARNING: TRUE STORY BELOW!
A good friend of mine had a wedding that looked eerily similar to this. It was out in his front yard and was complete with a noose hanging in a tree that they were standing under, a very drunk groom and drunk groomsmen, a dog (or two) that wouldn't leave anyone alone, and another friend shooting a 12 gauge shotgun into the air multiple times after the pastor said "You may kiss the bride". Yes, this one did take place in good ol' WV. Less than a mile from my house in fact.The wedding day ended with everyone taking turns riding a couple of ATV's (fourwheelers) with only one minor accident. One of the drunks (no, not me) flipped the 600 lb. monster of a fourwheeler over frontwards. I don't know how it happened, but it did. He had no injuries other than a bruised ego. Good times man…good times.
---
REDNECK – "cracker," 1893; attested 1830 in more specialized sense ("This may be ascribed to the Red Necks, a name bestowed upon the Presbyterians in Fayetteville," from Ann Royall, "Southern Tour I," p.148). According to various theories, red perhaps from anger, or from pellagra, but most likely from mule farmers' outdoors labor in the sun, wearing a shirt and straw hat, with the neck exposed.
Online Etymology Dictionary, © 2001 Douglas Harper
HILLBILLY-"southern Appalachian resident," c.1900, from hill + masc. proper name Billy/Billie. As a type of folk music, first attested 1924.
"In short, a Hill-Billie is a free and untrammeled white citizen of Alabama, who lives in the hills, has no means to speak of, dresses as he can, talks as he pleases, drinks whiskey when he gets it, and fires of his revolver as the fancy takes him." ["New York Journal," April 23, 1900]
Online Etymology Dictionary, © 2001 Douglas Harper